What they're saying...
"Sherri is, in my opinion, the best photographer in the Greater Los Angeles area. She meets and exceeds my needs, and the needs of the many clients I have referred to her over the many years we have worked together. In addition to being extremely talented, professional, punctual, and responsive, she also goes the extra mile to make clients feel special...every client of hers has a VIP experience. The weddings and events she and I have joined forces on (I am a planner) have frequently been published because of the exceptional quality of her photos, and her ability to get the shots requested...every. single. time."
JULIA KADISH Wedding & Event Planner Next Level Occasions
"My husband and I first met Sherri after a great recommendation from our wedding planner for our destination wedding in Los Olivos. We loved her pictures and how she makes her subjects look at ease. We planned a fun engagement session in our neighborhood in Long Beach alongside the beautiful ocean. Sherri gave me an outstanding recommendation for a makeup/hairstylist and gave us tips on what to wear and the time of day for the best pictures (at sunset). From that session she made us a really impressive book of our pictures. I was very delighted. For our wedding, we first had Sherri photograph our Halloween rehearsal dinner as all our guests were wearing costumes. These pictures are up on our home and I love seeing them daily. I contacted Sherri 5 years after our day and she was able to help make a photo collage of the pictures for me. She was so quick to respond and get the collage together for me. Our wedding is really gorgeous and I am so thrilled with the wedding photos we will have to share with our children for the rest of our lives. She is also terrific at Boudoir photos!! By far Sherri is my favorite photographer and such a great woman. Her fantastic personality really made all the photo shoots really fun and light hearted! I keep in touch with her now to do our photos of our kids/family!"
BETH & JOE Destination Wedding in Los Olivos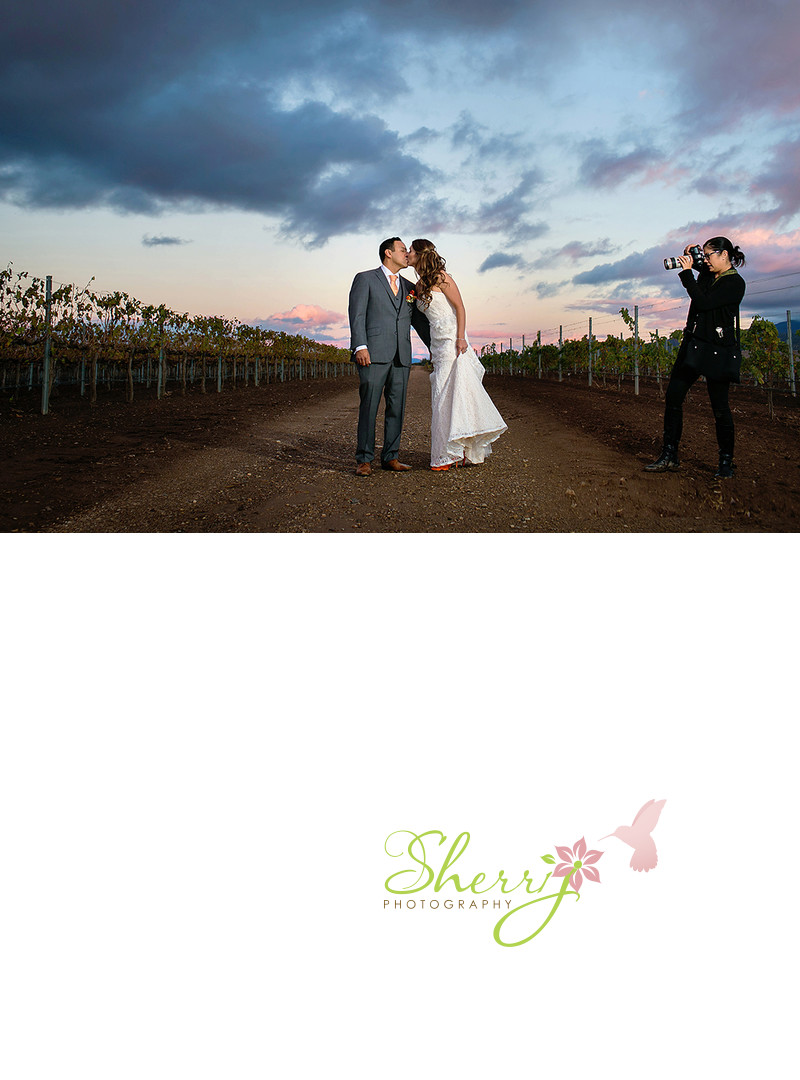 "After booking the venue your photographer is the most important aspect of your wedding day. It was one of the hardest decisions I had to make until I found Sherri. My husband and I instantly fell in love with her work and her photos tend to speak for themselves. She makes wedding photography look effortless and dramatic at the same time. It was such a relief having Sherri by my side on my wedding day. Everything I asked for she helped make happen. She is a true professional and handles every shot with care and the day with grace. I let her know beforehand that I wanted to bend a few house rules and shoot in some different places and she was all for it:) I love that I found a photographer for my wedding and hopefully for life."

TONY & VICTORIA FLAME Wedding & Event Planner Victoria Flame Events
"Sherri is incredible. 5 years ago she shot our wedding and the photos are still as beautiful and timeless as ever. We have been so happy with her work that we recently had her shoot photos for our new office website and she sure delivered. The images are stunning and we can't wait to get them up online for our potential clients to see. I would highly recommend her to anyone looking for excellent photos."

Dr JAMES & AURORA ALLEN Allen Chiropractic, Mission Viejo
| | |
| --- | --- |
| | |
"Sherri did my portrait maternity shoot at Malibu . It was an ambitious shoot since I was 7 months pregnant, we all woke up at 5 am ish to make sunrise , and there was sand and stairs to trek through . Oh, and it was January so even though we are in LA- it's the coldest time of the year. All elements that could be stressful. She made me feel AND look lovely in her photos, everything I wanted to remember about pregnancy. We captured the sunrise .I had seen her wedding & real estate photos and know that they are professional and gorgeous . She is meticulous in her edits. I got the proofs super quickly. She's a delight to be around; thank you for preserving our memories!"
MAI, portrait client
"I have hired Sherri five times for various professional photo needs. She has done several portrait sessions for me and my employees, and I hired her to shoot portraits for a client of mine. All sessions were very different from corporate bio photographs to fun, family/pet photographs to laid-back beach photos...she always captures beautiful light and makes the subjects shine. In addition, she did a fabulous job capturing my business space...I own a small day spa, and Sherri did a great job putting it on film for my website."

Rene Brookbank Beach Beauty Bar, Huntington Beach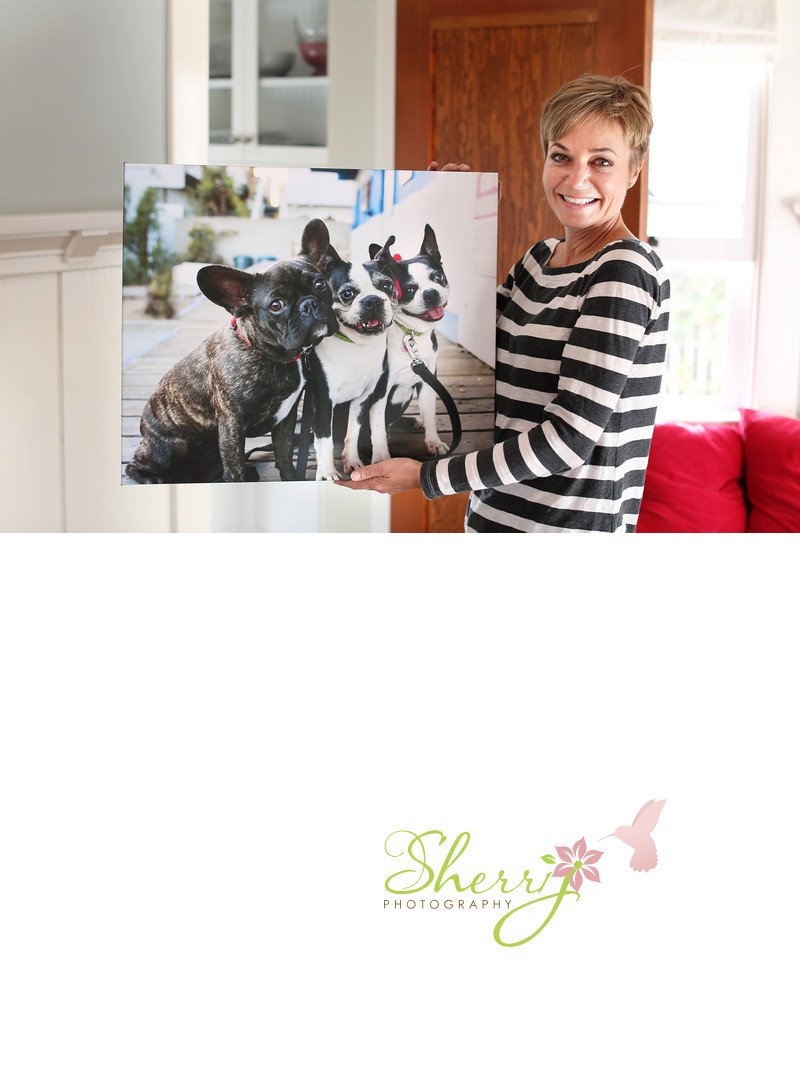 "Sherri is AMAZING!! She took our engagement photos; which needless to say - we are in love with! My fiance & I are not the picture taking people, but Sherri made us feel so comfortable it was a breeze & great time. She helped with everything down to the smallest of details. Sherri will take all your ideas/Pinterest dreams & make it come to life. I cannot wait for what is in store for our wedding photos! Thank you so much Sherri!!"

LEXI & BRIAN, wedding client
"I cannot even begin to write in words how amazing Sherri is and how talented her work is. I received her recommendation from one of my bridesmaids. I was nervous to do a Boudoir photo session because of my self esteem and because it was a big leap for me to do something like that but I wanted to give an album to my Fiance on our wedding day. Sherri was so helpful with giving me tips in regards to color, items to bring, and pose recommendations. Her package included professional make up and hair by Rachelle, who was AWESOME! I never have had professional make up done other than going to an ULTA counter. Sherri is the most approachable person ever and it made it easy to do the session. When I received the album, my self esteem spiked! I felt so beautiful and sexy! She brought this esteem out in me and I could not thank her enough! The package the album came in was wrapped and presented like a gift and it was; a gift that will be hard to match in the future. If you're having doubts on whether do to a boudoir shoot, don't. She will make you feel comfortable and you will not regret the empowerment that it gives you! Don't even wait to do this until you have a fiance to give it to, do the session for your own gift, because it is such a wonderful gift to yourself. Sherri is extremely talented and is unmatched in her community of photographers. Book her NOW! You won't regret it!!!"
ASHLEY, boudoir client
"At the end of everything, all you have are a few things to remind you about your wedding day. Aside from the gifts, the dress, etc you have your photography. I was like many other brides out there...a budget savvy bride. In this industry I clearly understood that you get what you pay for. Sherri was great, she is not a "in your face" "cheesy" type of photographer. She is a modern type photographer and I loved my photos. The styling, the quality, the various amounts of photos... I loved it all. I am so happy I did not skimp on good photography. The great thing about her is that you can custom create your own package to suit your needs and pricing. If you like captured moments, modern photography, great quality pics then Sherri is your girl."

MELISSA & GREG, wedding client Long Beach Museum of Art
| | |
| --- | --- |
| | |
"Sherri is simply the most amazing photographer I have ever had the pleasure of working with. We hired her to shoot our engagement pictures this past March and for our wedding day this past May. She is not only talented and passionate about her work but she is also fun to be around and really puts you to ease. Our engagement pictures and wedding pictures (OVER 900 of them) were sent to us 3 days later! =) I loved how quickly she sent us our edited images because that meant we could use them on our thank you cards we sent to our guests. I highly recommend going to Sherri's website to check out other photo shoots she has done; her work speaks for itself."
MARISSA & TYLER, wedding client Bakersfield
"Sherri was so professional from the start. She traveled to Yosemite for our destination wedding and captured so many amazing photos! Her style was just what we were looking for and we were so happy with the results. She worked so quickly and had images for us to look at just days after our wedding! She always responds to email or phone calls so quickly and helps you with anything you ask about. I recommend!!!!"
KELLY & DAVID destination wedding Yosemite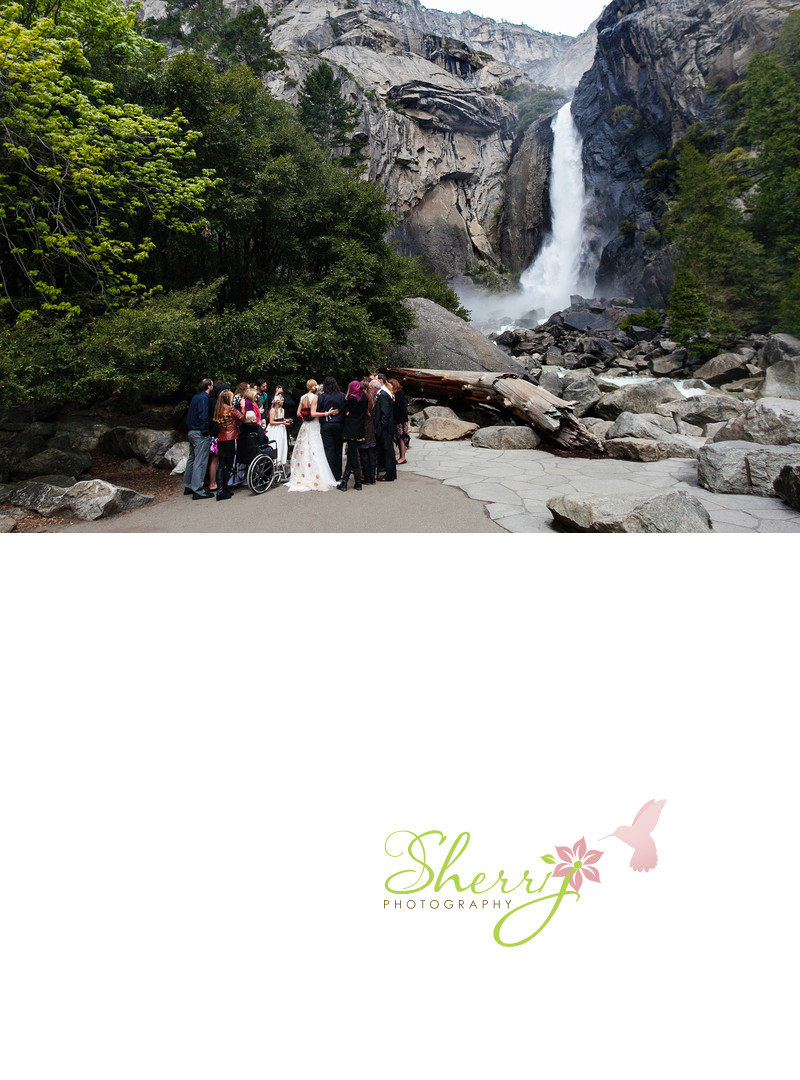 "Sherri was amazing to work with. From our initial conversations to getting our wedding album, Sherri was professional, courteous, and receptive. It was a blast having her at our wedding to capture our special day. In addition, her work is beautiful. I highly recommend working with Sherri."
CHIZU & ANDREW, wedding client Walt Disney Concert Hall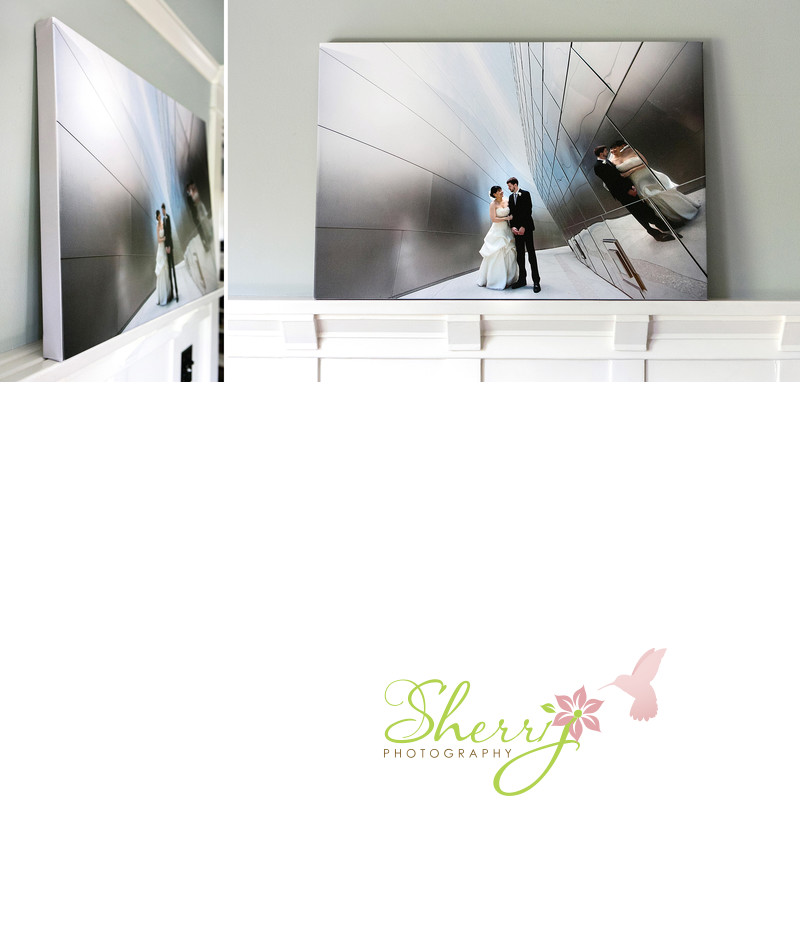 "I don't have enough words to say how happy I was with hiring Sherri for my wedding. She captured all the details and emotional vibes of the day so beautifully that the wedding was published in a online magazine/blog! She's creative, detail oriented, and gets fast results. I was married on a Saturday night and got my pictures three days later! Amazing! Best of all, she's easy to get along with and calm and cool as a cucumber. You need someone with that that kind of energy so you don't stress. I strongly recommend Sherri for any kind of photography in general - not just weddings!"

MONINA & MATTHEW, wedding client
"I watched Sherri photograph my cousin's wedding. The venue was a generic location with not too many personalized details, yet she was able to capture classic images and emotions without focusing on the limitations of the setting. For most people, finding a great photographer is hard because we aren't sure what to ask. We see "pretty pictures" but we don't know what it takes to get them. Sherri's images are fabulous because she understands lighting, she knows how to use the right equipment, and she has the right attitude for interacting with people. I think an important point is she's able to create a consistency in her storytelling. Lots of photographers can take a handful of good images and those are the only ones they show you. They don't get the whole story in high quality. And they use editing techniques that will look dated in the years to come. All of Sherri's images are quality because they are bright, clear and capture beautiful emotions. Her style will endure for years to come. I love following her blog to enjoy the creative events she photographs."

DAWN TOPETE, photographer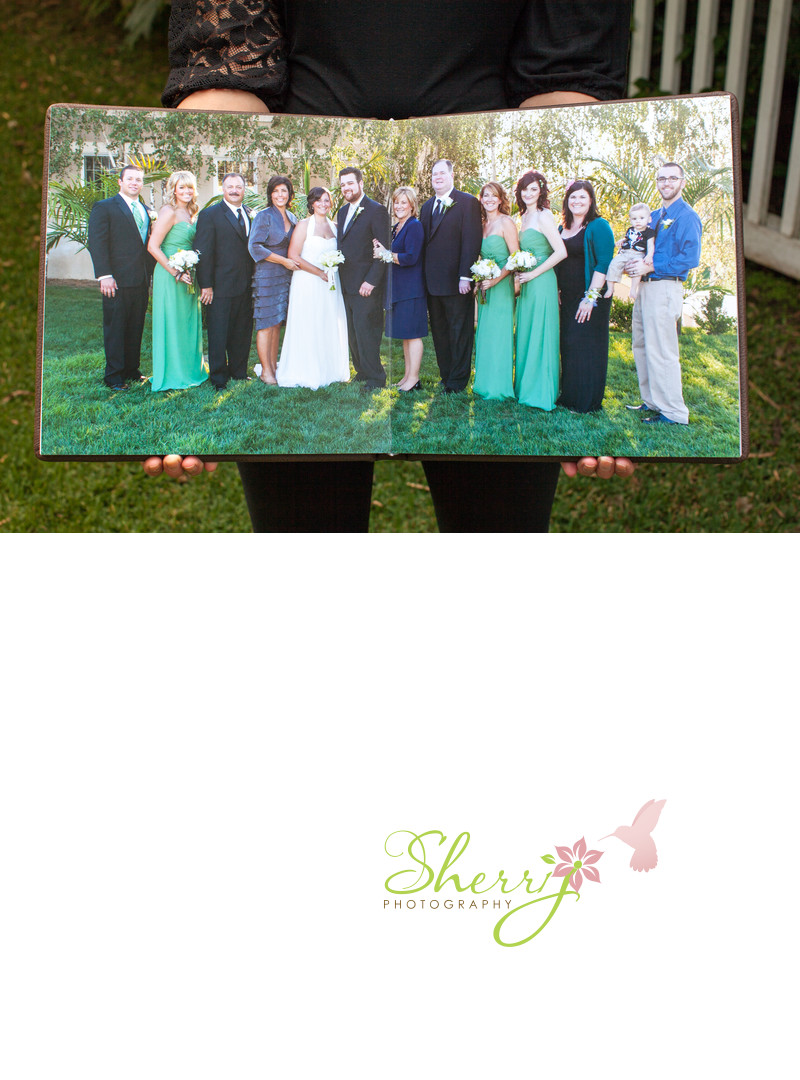 "Most importantly, Sherri's photos were awesome and exactly what we wanted. She captured all the moments that were important to us, plus a lot that we didn't know would be important to us. Our family and friends were really impressed with everything she and her team were able to do for us. I would also like to note that working with her through the planning process was so easy. She is great at communicating and really great to work with. Sherri is flexible and her main goal was really to make our wedding the most memorable day posible. As everyone knows, planning weddings and big events can be stressful but Sherri made it smooth, easy and enjoyable!"

ADRIAN & MICHAEL, wedding client
"Sherri is absolutely amazing!!! I am so glad she was able capture moments from our special day!!! She shot tons of pics at our beach wedding at Salt Creek Beach in Dana Point and I don't know that there is anyone that could have done a better job! She was so fun to work with and helped us get in all of our great shots to stick to our timeline. I have already given her name to a few people I hope they contact her. It was also pretty nice to get photos back after only a few weeks rather than having to wait months. Thanks so much Sherri!!!"
CANDACE & CEDRIC, wedding client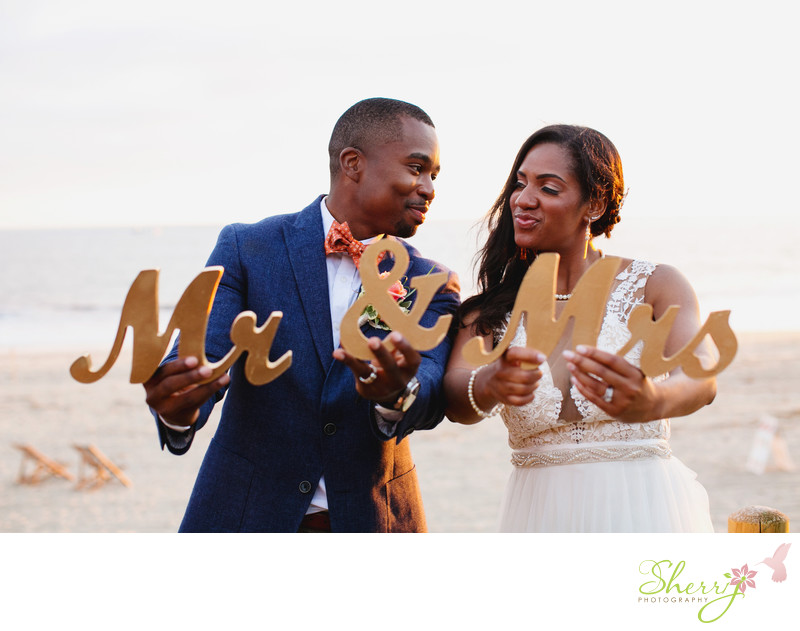 "My husband and I hired Sherri for our wedding in Nov, 2013 and we are huge fans! We found her on yelp and within 15 minutes, we felt comfortable with her and that she would work with whatever style and vision we had. One of my top worries was the unpredictability of wedding weather and hair - Sherri was more than happy to show us her before/after editing and it was great to see how clean her edited photos were without completely altering the moment. Part of our package included an engagement session and that was when we got to know her before the big day. Her and her husband asked for photo inspirations and we were able to emulate the photos we wanted, in our own personal style. As people, they were laid back and made my husband feel comfortable, even though he's completely adverse to taking photos for over an hour straight! During the day of the wedding, she had a second photographer and an additional assistant (to help with equipment & lighting). She worked well with our hired videographer, making sure he got the shots he needed. Sherri and her team were easy-going, fun, joked around with us, and helped wrangle the entire party together...which is a feat in itself! We highly recommend her!"
STEPHANIE & RYAN wedding client
"Sherri and I had a wonderful connection. She was more than just our photographer, she became my friend. Throughout the planning process she was a huge help in choosing shoes, clothes, and even headpieces for my wedding. I would say Sherri knows her way around weddings and loves to help with more than just the photos! We have a beautiful wedding album with photos that we love very much. Her creative talents make beautiful photos and not just "cookie cutter" wedding shots. She has great ideas and she works very hard to get the shots she wants (She got me a much bigger and better dressing room on the day of my wedding). I'd recommend her to any bride!! All my guests told me how much they LOVED our photographer!"
AMANDA & ADAM wedding client Santa Monica
"We LOVED Sherri and her assistant Jen! They both did an AMAZING job shooting, and we have breathtaking photos to prove it. We met Sherri very soon after we were engaged, and she was one of only 3 photographers we had met with before making our decision (we scoured 100's of sites before setting up meetings)! From the moment we met her, we knew she would be easy and FUN to work with. Her aesthetic is vibrant and she is extremely adept at capturing emotion in every shot. Practically speaking also, Sherri is EXTREMELY responsive to emails and phone calls, which was fantastic. I'd write her emails at midnight, and have a VERY THOROUGH response from her by the time I woke up for work. We had a fabulous time working with Sherri, and would recommend her to all our engaged friends!"
ANGELA & EUGENE wedding clients
"I had the pleasure to work with Sherri on a wedding this past week. She is beyond amazing in what she does. Besides being one of the easiest person to work with, she delivers high quality product. I highly recommend her to be the lead photographer at your next event."
SIMONE G. Wedding Planner OC Beach Weddings