Top 10 Tips for Weddings
1) BRING YOUR WEDDING INVITATIONS
Your wedding invitations are the first impression of your event. They reflect your style and include really great personal details like your names, wedding date, and location. I recommend bringing one self addressed enveloped and a few extra invitations to be photographed. In the sample image below on the left, you will see a really cool custom invitation design made by my talented bride, who is also a graphic designer. I styled the invitations on the grass after the ceremony to include some of the pretty rose petals that lined her aisle, bringing a great pop of color and texture to balance out the rather graphic print. With a set of 3 invitations, I was able to show the front side of the card, and the 2 options for the back side with the bride and groom's names done in an anagram style. Below on the right is another sample of a wedding set with the couple's save the dates, RSVP cards, food menus, and envelopes.
You may notice both examples are photographed on grass. If grass is not your thing, don't worry I like using other pretty backgrounds too, like sand for a beach wedding, or even bridesmaid's dresses if we're in a hotel room and there is nothing else. What you want to avoid is adding backgrounds that have nothing to do with your wedding like hotel carpet (or any interior flooring), sofas that do not match your wedding style, or dirt.
2) CLEAN YOUR RING
Have your engagement ring cleaned so it will be nice and sparkly! You can get your ring cleaned professionally at a jeweler or do it yourself with a jewelry cleaning solution. I love taking a detailed picture of the weddings rings while the bride is getting ready so I can also include your engagement ring. If we do this before the ceremony then your rings can remain on your finger for the rest of the day.
Below is a sample of the bride and groom's custom wedding rings designed by San Francisco jewelry designer Christy Natsumi. The groom's ring was made to look like a Chicago Bull's Championship Ring styled on their custom wedding invitations with the bride's pearl earrings and daughter's locket.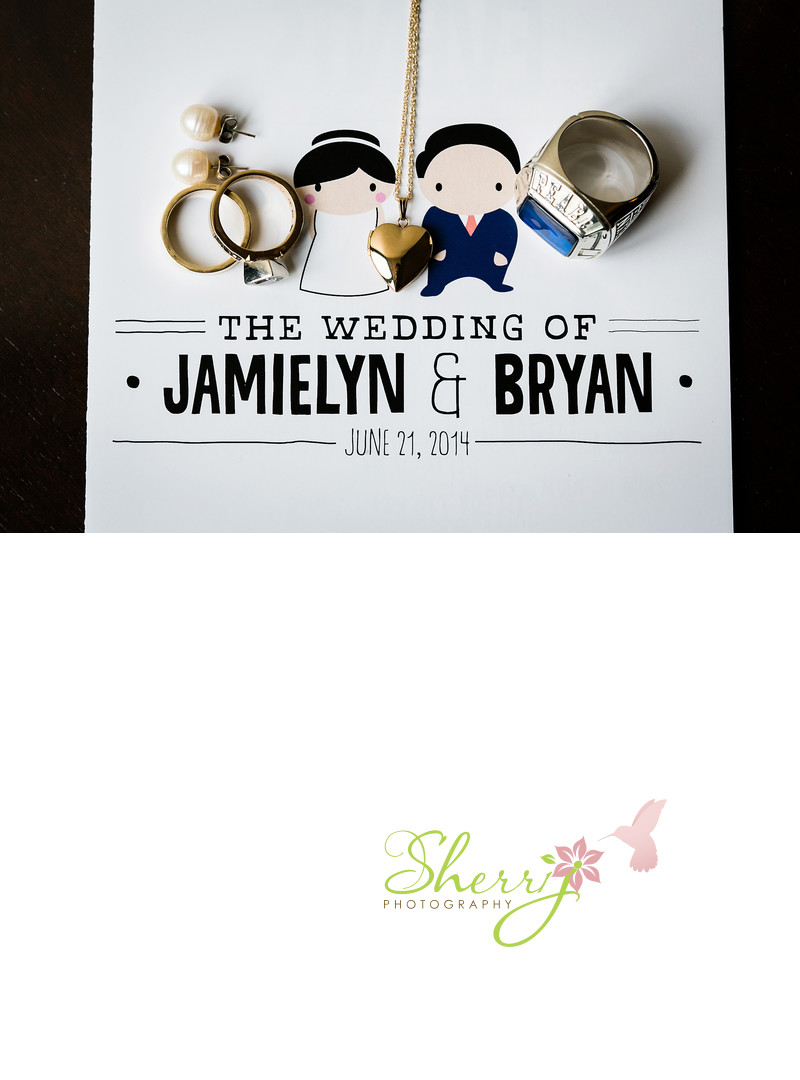 3) DETAILS
The wedding dress alone is a classic picture. Make sure your dress is prepped for a close up with steaming out the wrinkles and removing all tags and extra padding (bring some scissors). Check out ETSY for a beautiful custom wedding hangers. You can have personal details like your name or "Mrs." added for a personal touch. If your wedding gown is one of the special ones that has a massive number of hooked buttons in the back, get a small crochet needle from a craft store to help you get in and out of your dress faster.
Additional details for brides include jewelry, shoes, handbag, perfume, vows.
You might also want to consider the tradition of "something old, something new, something borrowed, something blue."
Men have cool details too. Ways to add personal flair include cufflinks, fun dress socks, accessories, ties/bowties, shoes, and vows.
4) FLOWERS
According to Brides magazine, the average cost of a bride's bouquet can range from $75 up to $300+ depending on the size and types of flowers used. To get the most from your wedding flowers, ask your florist to deliver your bridal and bridesmaid bouquets to where you're getting ready. Keep them in a cool spot and out of the sun, until needed for pictures. Your flowers should arrive in a vase with water, so also be prepared with a few small towels to wipe access water off the stems when removed from the vases. Don't forge to bring the water vases with you to your reception to place the flowers in so they don't brown.
For the guys, it's hard for them to pin the boutonnieres on themselves. Plan ahead and designate someone to pin the groom, groomsmen, and family members. This is usually done by a florist or wedding coordinator, but if neither of those two are available, kindly ask a friend or relative to help out. As a last resort, I am very helpful when it comes to pinning a boutonniere, but if I do it, there won't be anyone taking pictures.
Bride in flower crown getting ready with bridesmaids in pretty floral robes at Below Dry Bar, Orange County
5) HAIR AND MAKEUP
One of the biggest things that can cause delay in the wedding day, is hair and makeup running over on time. Make sure your hair and makeup artist is aware of how many people they are working with, and if anyone is getting an intricate updo.
All of the bridesmaids should be 100% ready with hair/makeup and completely dressed before the bride is finished getting ready. This makes for better pictures when the bride is getting into her dress.
Wear a robe or button up t-shirt during your hair and makeup application for an easy wardrobe change.
Ask for individual lashes if applying false eyelashes.
Bring some Visine for white eyes.
Do a trial run with your makeup artist before your wedding day to make sure you'll love the colors, style, and how you look in your pictures.
If you are seeking a really good hair and makeup artist, check out my list of vendors on my list for Top 5 Tips for Planning a Portrait Session.
Bride Melissa getting hair and makeup
6) UNPLUGGED CEREMONY
Ask your wedding guests to put down their cell phones and ipads, and be in the moment. Consider an "unplugged wedding" for during the ceremony. Offbeat Bride has a great article on what this means and how you can politely request this from your guests.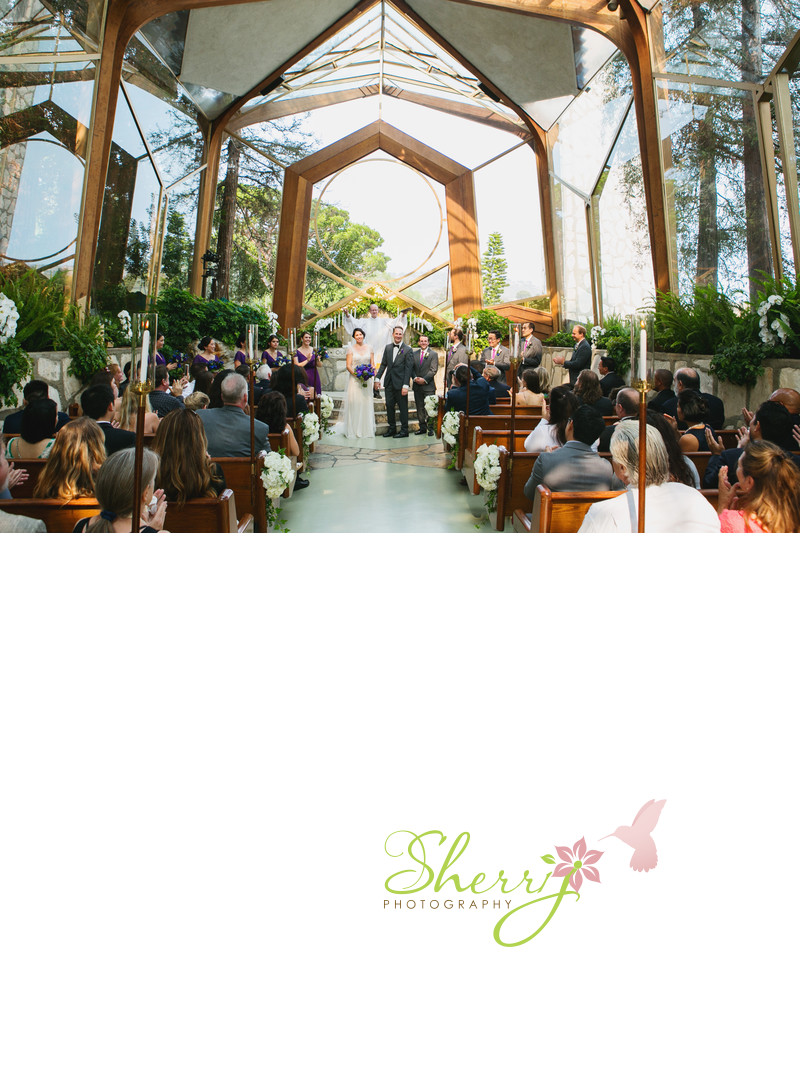 Bride and Groom pronounced husband and wife at Wayfarers Chapel, Palos Verdes
7) RECESSIONAL
Take your time with your first kiss after saying "I Do." This is a great time to enjoy the moment or grab kiss a little longer than normal. This also helps make sure we get some great pictures!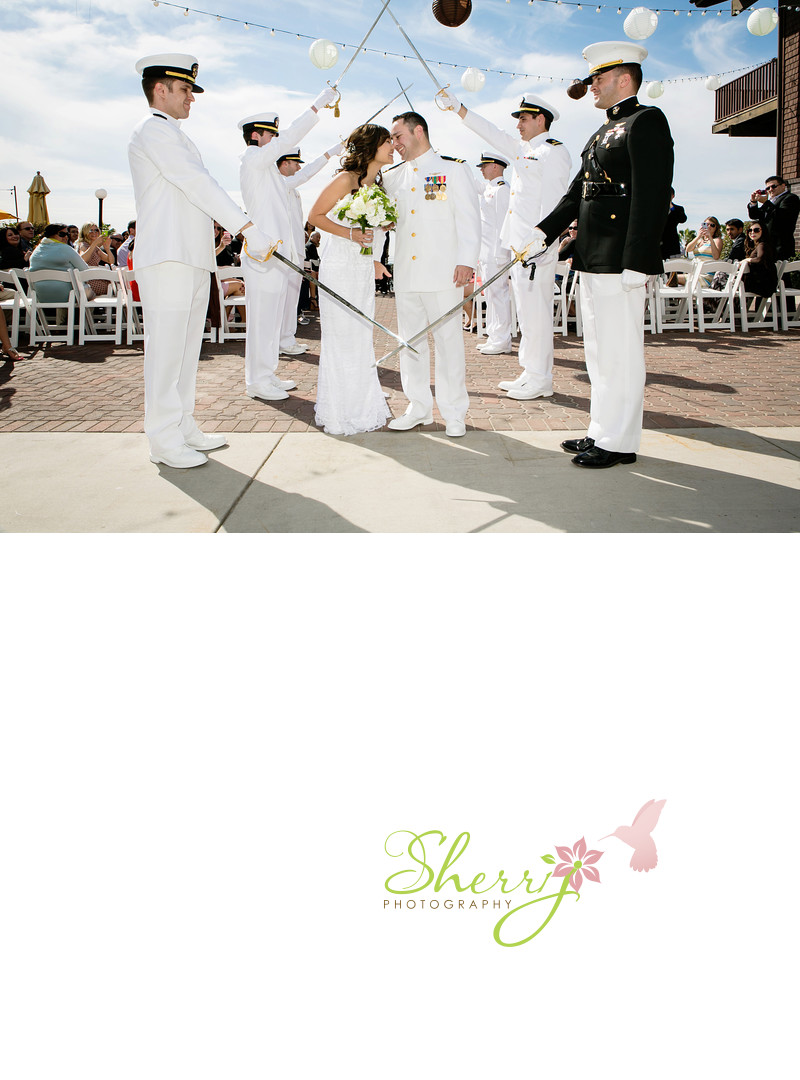 Saber arch for military wedding at the Long Beach Museum of Art
8) FAMILY FORMALS
The only list I will ask you for ahead of time, are family formals. I recommend telling family members where and when formal pictures will be taken. You can do this before the wedding day, in your wedding program, or during your wedding rehearsal. Designate a friend or family member to help wrangle people and check off shots as they are completed. The recommend time for doing extended family formals is one hour before the ceremony or immediately following the ceremony, before cocktail hour, when natural lighting is still good.
Super fun family formal picture with siblings and parents, Atladena California
9) TRUST ME
Avoid the "Shot List." I absolutely want you to love all of your pictures. I promise to do my best getting every detail you desire. There's nothing more disruptive to documenting the natural flow of your day more than pulling out a detailed "shot list" with images you found on Pinterest. What works for me is knowing what's important for you to remember.
Do you want a lot of details? Lots of pictures of your guests? Extended family pictures? Romantic of Bride and Groom? I got you.
Let's keep the day flexible and stress-free.
November wedding tables-cape with fall decore
10) ENJOY YOUR DAY!
Last but not least, enjoy the day you have planned! Your wedding day will be one of the best days of your life and it will go by too fast. Enjoy your day, every moment, and take it all in. Don't stress if things don't go as perfectly as planned. The next chapter of your life is about to begin.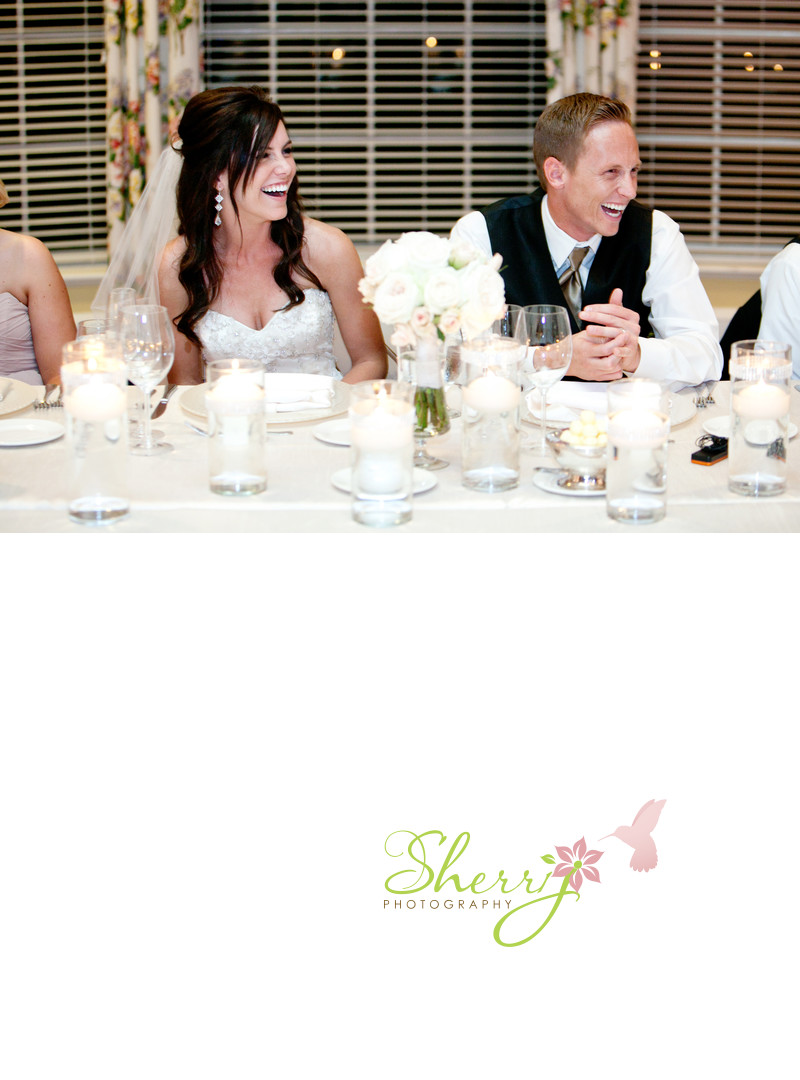 Candid moment of bride and groom smiling during speeches at their reception
BOOK ME TODAY
If would like to book the best Los Angeles wedding photographer or if you have questions, CONTACT me now.
Sherri Johnson | Los Angeles Photographer
Portraits | Weddings | Events | Real Estate | 1106 S St Andrews Pl, Los Angeles, CA 90019